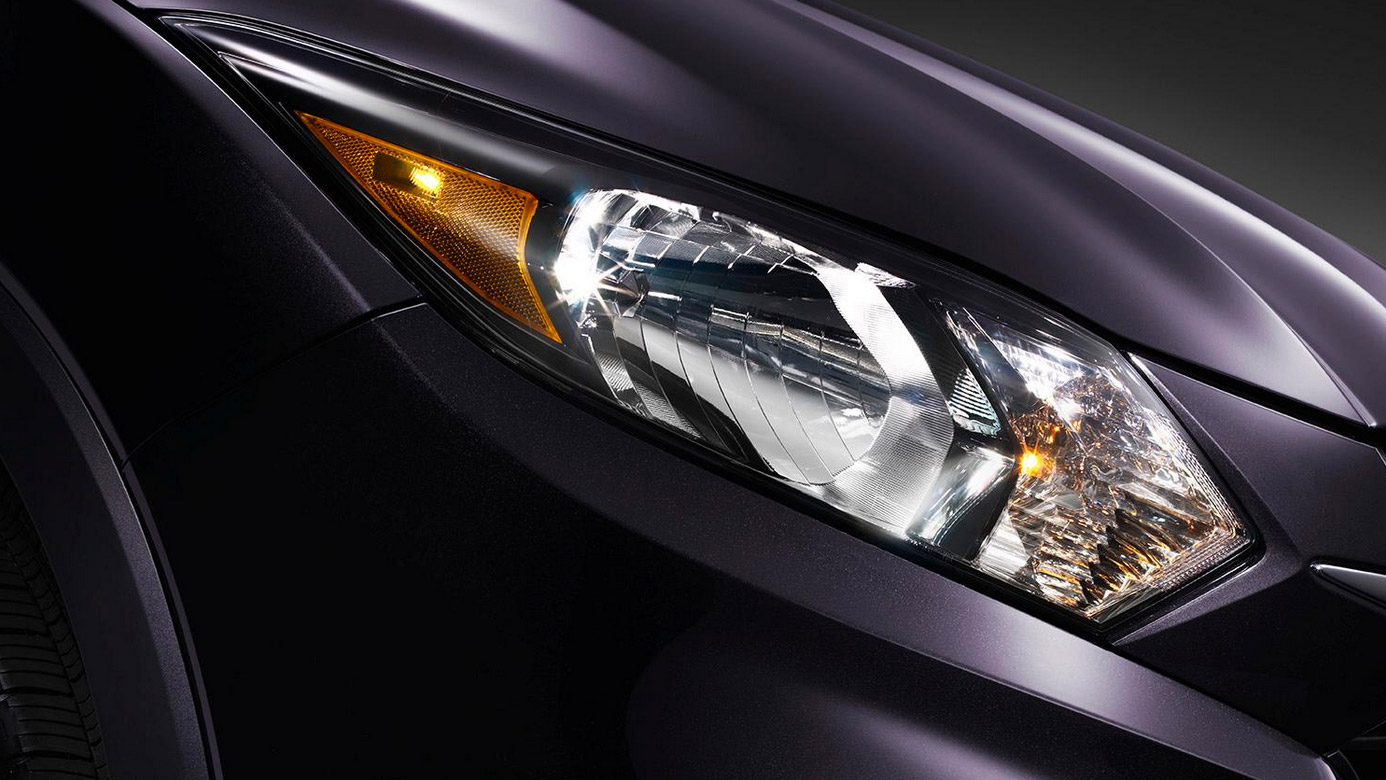 Pulling up to the Honda Autopark dealership for a test drive isn't always this exciting. Don't get us wrong, we love Hondas, and we get excited to drive any new vehicle they throw at us, but today is different. Today we're driving the new 2016 Honda HR-V.
Does the name ring a bell? If not, don't feel bad. The original Honda HR-V was created in 1999 and marketed to a younger demographic as "The Joy Machine" way before crossovers were even a thing.  We think they would've had better luck advertising it as a Y2K apocalypse-evacuation-vehicle, or "Y2KAEV" for short. The old HR-V was discontinued in 2006, after some trouble selling non-diesel versions in the European markets. Nearly a decade later, Honda's entering their updated HR-V into the crowded subcompact pinewood derby.
We're big Honda fans, but in a market saturated with new sporty crossovers, what pushes the new HR-V past its competitors?
This was our question as we approached the HR-V. First we noticed the size – or lack of it. We would describe it as a "smedium." The HR-V is a little larger than the Honda Fit, although it shares the same frame, but it's still smaller than the Honda Pilot and CR-V. Second, we noticed the updated body style. It's a big improvement from the old boxy features the HR-V used to don back in 2006 – the same year "Big Momma's House 2" and "Date Movie" were released.
Eager to leave 2006 behind, we hopped into the new 2016 HR-V and quickly synced up our phone to the HandsFreeLink® Bluetooth. After adjusting our seats and mirrors, we turned the key. The 1.8L SOHC i-VTEC® engine fired right up, ready to transfer 141 horsepower and 127 lbs of torque to the 17-inch alloy wheels. Gripping the leather trimmed steering wheel, we shifted into drive and began our adventure.
We took a left onto 64 towards Apex and pushed the HR-V up to 60mph. The Continuously Variable Transmission (CVT) leaves clunky shifters in the dust, accelerating effortlessly to cruising speed. The engine is similar to the inline 4-cylinder engine in the Honda Civic and the Honda Fit, which will take you from zero to 60 in 9.5 seconds. The HR-V isn't slow, but it also wont win you any pink slips in a drag race, so don't go pulling up to Honda events like you're the ghost of Paul Walker.
Instead of speed, the 1.8L stands out most for its efficiency. With an EPA-rated 35 MPG on the highway and 28 MPG in the city, it offers the most efficient engine out of any leading subcompact cars on the market. The HR-V also comes with an Eco Assist™ mode that improves fuel efficiency and helps train drivers to accelerate conservatively. For our rag-tag group of fuel-burning test drivers, this was a hard lesson.
As we cruised down Lake Pine Drive, we were surprised at how sturdy and responsive the HR-V cornered. When you turn the car, the chassis isn't lagging behind trying to catch up to the wheels – it's engaged in the motion, making for fluid and stable maneuvers. What's more, we weren't even driving the AWD version. That's right, this spunky little crossover can be equipped with Honda's AWD system, which is sure to further improve the already impressive handling.
As we drove down the road streaming music through the 6-speaker sound system, it occurred to us that we hadn't figured out who the HR-V was made for. The HR-V's updated design and sporty driving is definitely meant to attract a younger audience. It has everything a group likely to have just one car would want in their vehicle: great gas mileage, ample storage, sleek design, and tested reliability.
Still, the HR-V carries a certain style and performance that make it difficult to place in any demographic. It's just as likely to be a lucky high-schooler's first car, as it is to be grandma's plant-hauling sporty SUV. Unsurprisingly, it's hard to decide who will buy an all-around great car. Who doesn't want a great car?
We decided that the best place to take the HR-V is to the suburbs – or the "burbs" as we call it. This seemed like the best destination to represent our would-be HR-V owner, and there was also the chance we'd stumble across a lemonade stand. In our search for cool citrus refreshment, we decided to venture into the auspiciously alliterative neighborhood of Picardy Pointe. We exited the vehicle, hopped in the back seat, and were pleasantly surprised by all the room for activities! It was very comfy, with enough headroom to allow a person of average or slightly above average height to sit comfortably.
The backseat bonanza doesn't stop there, though. We had heard of the mysterious Magic Seats® and needed to make our own observations (ok, we'll stop). To start, the seats really do seem magical. They are incredibly intuitive and when you see how much space you can get out of the back seats, it's a bit of a shock. In a frenzy we started naming off all kinds of items we could fit into the newly revealed cargo space: tall plants, flat screens, dirty dogs, Lego sculptures, a back seat, etc. It was great fun. Then we folded everything down to fully expand the rear cargo and repeated the process. With the seats down, the HR-V offers 58.8 cubic feet of storage.
After gushing over the cargo space, we closed the back hatch and caught sight of the backup camera. These have become commonplace in most new vehicles, but Honda has taken camera safety to a whole new level with LaneWatch®. Activated any time you use a turn signal, LaneWatch® displays a live feed of the lane you're entering using cameras located under each side view mirror. LaneWatch® feeds directly to the 7-Inch Display, so there's no need for a flexible neck now! Take that, owls.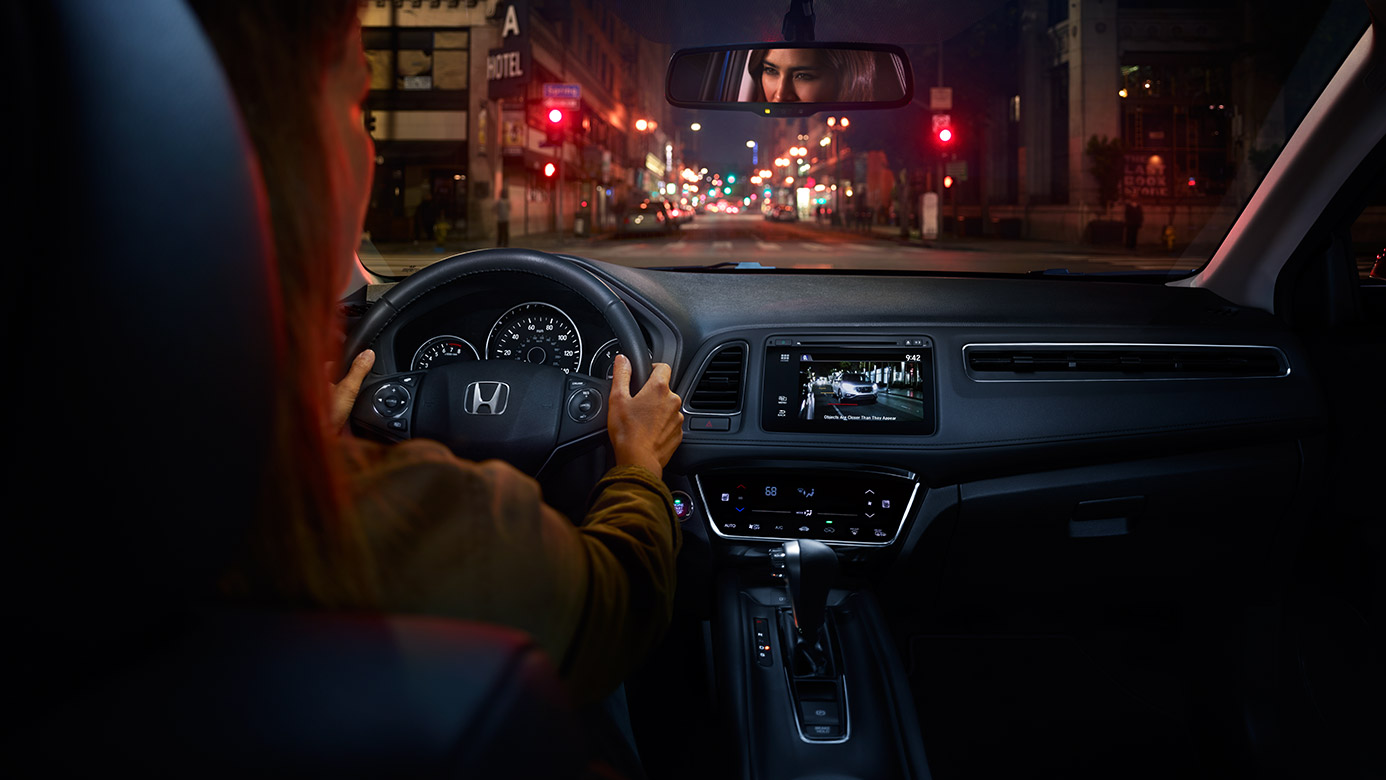 How much more do you need to know? We could list off the interior dimensions, all the added extras, and everything else that you can find out with one simple Google search. We could tell you about the traction control, smart entry, LED lights, and the digital cluster – or you could just come take a look at one yourself. If you know Hondas, there's not much else we need to say. They have always made reliable, efficient, and stylish vehicles that hold their value and go the distance. So come by Leith Honda today and experience the all-new Honda HR-V for yourself.
Another Honda We Love: The 2016 HR-V Crossover
was last modified:
July 23rd, 2015
by