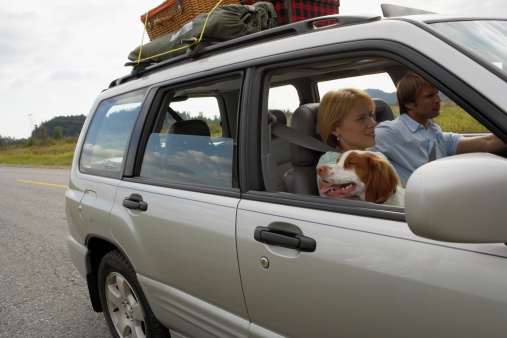 As a pet parent, adventures are much more enjoyable if your furry best friend is there to share in the fun. Engaging in new and exciting excursions with your pup only helps to strengthen that special bond that you share.
However, most pet parents may not be aware of the countless and diverse pet friendly things to do in North Carolina. Fortunately, TripsWithPets.com has compiled a list of unique pet friendly day trips that will allow you and your four-legged family member to experience the state's history, traditions, landscapes and attractions together – from gold mining and wine tours to ghost hunting and float trips
1. Burntshirt Vineyards, Hendersonville
Enjoy tasting local wines with your pup at this pet friendly vineyard in Hendersonville where your furry best friend can join you in the tasting room and on a tour of the vast vineyard. You can grab a bite to eat at local pet friendly restaurants after your trip to Burntshirt Vineyards, such as Mike's On Main and the Flat Rock Wood Room.
2. Gold City Gem Mine, Franklin
Have a blast searching for gems and panning for gold with your four-legged family member at this dog friendly mine in Franklin, which also provides professional cutting and setting services. Catch a meal during your trip at the Motor Company Grill, a pet friendly restaurant 10 miles from Gold City Gem Mine.
3.  Carolina History & Haunts, Charlotte
Explore the spooky side of Charlotte with you pooch and learn about the local history and haunts during this pet friendly 75-minutes guided tour. Enjoy a brew with your pup after your tour by Carolina History & Haunts at The Dog Bar or partake in one the area's pet friendly dining options, such as The Flying Saucer and Mellow Mushroom.
4. Masonboro Island Reserve
Soak up the sun with your furry best friend at this undisturbed, barrier island that is the home of national estuarine research. Masonboro Island welcomes primitive camping, and you and your pooch can get there with the help of pet friendly Entropy Boat Rentals. After a day on the island enjoy some seafood from Dock Street Oyster Bar, one of nearby Wilmington's pet friendly dining options.
5.  Craggy Gardens, Ivy
Visit one of the most spectacular views of the Blue Ridge Parkway with your pup with a visit to Craggy Gardens in Ivy. After a day of hiking through the beautiful flora and fauna, grab a meal at Blue Mountain Pizza and Brew Pub, a pet friendly restaurant in neighboring Weaverville.
6.  North Carolina Art Museum Park, Raleigh
Spend the day with your pooch exploring the 160 acres of trails and modern art projects at the North Carolina Art Museum Park, where art and nature unite. After your visit enjoy a dinner at Boylan Bridge Brewpub, one of Raleigh's pet friendly dining options.
7. Asheville Adventure Float Trips, Asheville
Explore the attractions of Asheville with your four-legged family member with one of Asheville Adventure Rentals float trips on the French Broad River. While in Asheville, stop by pet friendly Westville Pub for a meal and brew.
8. Corolla Outback Adventures, Corolla
Tour several refuge and sanctuary sites on the Outer Banks and see the famous Colonial Spanish Mustangs with your pup in a 4×4 off-road vehicle. After your excursion with Corolla Outback Adventures, try some of Corolla's local seafood at pet friendly Steamers Shellfish.
9. SkyTop Orchard, Zirconia
Pick a wide variety of fruit, indulge in delicious homemade treats, see barnyard animals, and explore a bamboo forest with your four-legged friend during a trip to SkyTop Orchard in Zirconia. Nearby pet friendly dining options include  Hubba Hubba Smokehouse in Flat Rock.
10. Tour Old Wilmington, Wilmington
Learn about Wilmington's lore and history with your pooch by participating in a Historic Walking Tour by Tour Old Wilmington. Enjoy a meal with your pup in Historic Downtown Wilmington at The George on the RiverWalk during your visit.
11. Ghost Hunters of Asheville, Asheville
Embark on a unique, interactive ghost hunting experience with your pooch with Ghost Hunters of Asheville. If you love wine, chose a tour that includes wine tastings. While in the area visit White Duck Taco Shop, one of Asheville's pet friendly dining options.
12. Raleigh Flea Market, Raleigh
Spend the weekend in Raleigh shopping with your furry best friend at one of America's best flea markets. After your trip to the Raleigh Flea Market, swing by Players Retreat with your pup for a meal.
About TripsWithPets.com
TripsWithPets.com is the premier online pet friendly travel guide — providing online reservations at over 30,000 pet friendly hotels & accommodations across the U.S. and Canada. When planning a trip, pet parents go to TripsWithPets.com for detailed, up-to-date information on hotel pet policies and pet amenities. TripsWithPets.com also features airline & car rental pet policies, pet friendly activities, a user-friendly search-by-route option, as well as pet travel gear.
12 Unique Pet Friendly Day Trips in North Carolina
was last modified:
March 23rd, 2022
by