The Model T was America's car from 1908-1927 because it was big enough for a family, simple enough for the average person to care for, and affordable enough that anyone with decent means could buy one. We believe that in the next 5-10 years, the Honda Fit will be the Model T of the American automotive industry.
Let's set the stage: the 2015 Honda Fit that we're driving today is the third generation since its introduction in 2001. This is a car that Honda sells throughout the globe in Europe, Oceania, the Middle East, Africa, Australia, most of Asia, and the Americas. It's a subcompact car that's incredibly easy on gas, which accounts for much of its popularity. There was no 2014 Honda Fit as the company was redesigning the model and preparing a plant in Mexico to handle U.S. production. A lot of people are excited for the Fit's return in the U.S., so when we got our first units a few weeks ago, we knew we had to review it.
Introducing us to the car is Sales Consultant John Oliver. John has been with Leith Honda for two years, and we see his name mentioned often in online reviews about the dealership. We figured that if people are motivated to go online and write glowing reports about a fellow, then he must be doing something right. As John greeted us in the showroom, asked about what we wanted to accomplish today, and then went with a smile to retrieve a Fit for our test drive, we could easily see why people like working with him.
So, to business: we wanted to try the six-speed manual transmission in the Fit, but it turns out that those units had already been sold. Stick shifts can be a bit more work, it's true, but we had read several online reviews praising the responsiveness and pep of the Fit's gearbox, so we were eager to test it ourselves. But no matter—driving an automatic will free up our attention to notice other things about the Fit.
As John drove up our silver model, we were thankful he had the presence of mind to do so in the shade of the service bay. This is turning into a true North Carolina summer, which means temperatures in the mid-90s and humidity that make one long for a front porch, rocking chair and pitcher of iced tea. Judging by the sharp lines of the newly-redesigned Fit, we can see why Forbes Magazine wrote this March that "Honda expects the model's sales to pip those of Civic to become its largest selling vehicle."
John talked about his memories of the fuel crises of the 1970s when rising gas prices made people line up in droves at gas stations. In some states, you could only fill up every other day depending on your license plate number. The realities of rising fuel costs and a tough economic climate mean that ultra-reliable vehicles like Hondas are increasingly valuable for families who want to keep costs low.
The 2015 Honda Fit has a number of external features that are different from the last iteration. The vehicle is longer by a few inches, which translates into a roomier cabin inside. The front hood is shorter, however, which improves front visibility. The rear lights have an angular, window-bracketing design that reminds us of Volvo's styling, and the visor above the rear window—which used to be reserved for the highest trim—is now standard. Tapering cutlines slice into the side doors to create a more visceral, aerodynamic look, and the body's metal is reassuringly heavy to the touch.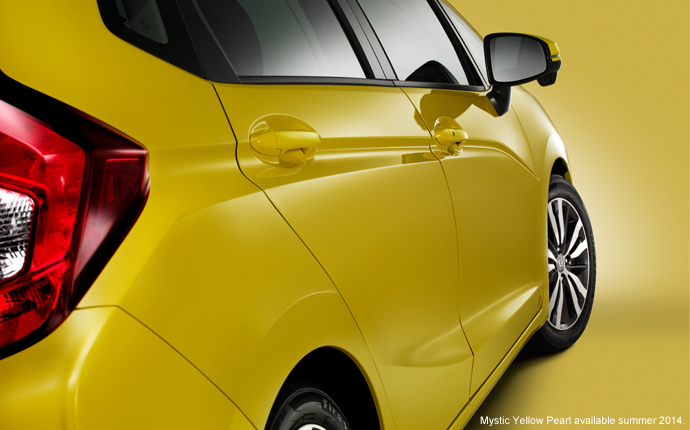 All of these features mean absolutely nothing when you see the interior. As the only vehicle in its class to offer leather seating, the Fit is surprisingly high-end looking when you open its doors and peer inside. It matters a lot to us to feel real leather under our fingertips when we get into a car, just as much as the solid bang of the Fit's doors slamming shut. The Fit may be small, but Honda's engineers worked hard to include the physical touches more typical of a full-size sedan.
Some details, however, respond to the vehicle's diminutive size. The front and rear seats are easy to fold back or down to create more room than the Civic Sedan. With the seats up, cargo space is 16.6 cubic feet compared to the Civic's 12.5. Unlike the Civic, the rear seats can fold completely flat to make a 52.7 cu. ft. area, which is more than enough to stow your bicycle as a recent TV commercial shows.
But what about passenger space? Bicycles and grocery bags don't care about things like headroom and pinched toes, but full-grown adults generally do. The Fit beats the Civic Sedan again with 95.7 cu. ft. vs. 94.6 in the base LX models. The fancier EX models have less space to accommodate more gadgets, but the Fit still edges forward with 93.8 cu. ft. to the Civic Sedan's 92.1.
The Fit won't be able to beat the Accord in passenger space (although it does win in cargo space, 16.6 to 15.8, thanks to the hatchback advantage), but then neither the Accord nor the Civic can match the Fit in fuel economy. Thanks to its ultra-light design, the Fit boasts peak MPGs of 33 in the city and 41 on the highway. That's without the manual transmission and in the LX model. It's also just a plain engine running on regular gas: no hybrid technology and no diesel. When you consider Honda's stellar reputation in terms of mechanical reliability and low-cost maintenance, it's easy to see why the company feels comfortable anointing the Fit as the car of the future.
As we slide into the driver's seat with John riding shotgun, we take a moment to survey the cabin. You would think that with all the fuss we made about interior space that Honda would have crammed the dashboard with all sorts of controls and screens to make the car feel flashy. Instead, the black interior is refreshingly crisp and devoid of busy-ness.
A high-quality, flat-panel touchscreen stands almost entirely alone on the center console, and instead of being inset in the dashboard like many automakers prefer, its large screen seems to reach out for you fingers' commands. There are two climate control knobs below, but that's it—Honda clearly wants most actions like audio and Bluetooth smartphone connection handled through the touchscreen. Two USB connections and even an HDMI port ensure that the Fit is extremely technologically up-to-date. We also appreciate the driver's cupholder for the left hand and wide steering wheel gap to better see the pretty digital displays in the instrument panel.
As we motor off, just motoring, we like how easy and communicative the steering wheel feels. A slight rotation of the wheel translates very well into a right or left turn in a way that never feels jumpy or overly-sensitive, just well-worn like an old pair of jeans or a trusty baseball glove. It's so easy to drive that we start to do so with only one hand, but safety dictates the old 10 and 2 approach, so we keep both hands on the wheel.
Because the 2015 Fit is longer, roomier and more tech-savvy than the previous model, many people expect it to be a bit heavier on its feet. Instead, horsepower was boosted about 10 percent thanks to some clever engineering tricks. Among these was the realization that by angling the engine back about 30 degrees, the pistons would be able to work with gravity instead of against it. That means more torque and quicker response from a standstill. The Fit has Eco-mode on by default, but punch the green-leaf button and you'll be able to get a move-on when you need it.
When punching it, you typically need to check your blind spots. Honda's lane-watch mirrors and cameras come in handy here, activating a camera on the passenger side mirror when you trigger a turn signal. That shows up on the center touchscreen with color lane markers so that you can keep your head forward instead of looking back like we were taught in the old school. This works fantastically during the day, but what about at night?
Ask anyone who has taken pictures with their phone at night, and you'll learn that usually all you get is blurry, grainy pictures nowhere near as cool as you remember (we'll see this again on July 4th when people take photos of fireworks). Knowing this, Honda took special care to brighten up the image in low-light conditions so that the side camera will actually provide a better picture at night than your own eyes can. It's a really cool feature that uses technology to address safety.
We take the exit for 540 because we want to know a) how long it takes to get up to speed, and b) how loud does a subcompact's engine sound at 80 mph. To get the fullest picture, we turn off Eco-mode and give it some gas, not flooring it, but enough to let the Fit know that we expect it to live up to its name. The Earth Dreams engine comes alive, and it sounds like every other Honda we've driven. We get up to speed and click the Eco button to let it get back to saving the environment. A moment later a semi-tractor trailer pulls alongside, and we need to pass. Now's our chance to reach 80.
Leaving the Fit in eco-friendly wonderland, we repeat our supplications of the gas pedal and have no problem shooting by the 18-wheeler. This is amazing! We're able to have a normally-volumed conversation with John about Bose speakers and use the Fit at whatever speed we want. A pair of extra front windows in front of the main windows let us see details on the truck's wheels as we pass, and we can easily imagine how the extra visibility could be crucial in parking situations. Satisfied, we head back toward the lot.
All in all, the 2015 Honda Fit will be a formidable contender. It has the high-end features you expect from a modern car in 2014, the forward thinking fuel-consciousness of 2024 and 2034, the passenger-focused roominess for people with active lifestyles, and mechanical soundness that keeps Hondas running for years on end with excellent resale value. It is in many ways the quintessential Honda product, carefully tailored for the American market.
We want to thank John Oliver for his generous donation of time, and wonderfully candid demonstration of the Fit's many features.
Test Drive Review: As Expected, The 2015 Honda Fit Is Go
was last modified:
May 22nd, 2015
by