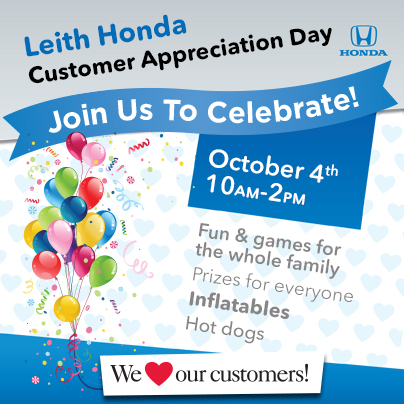 Those of y'all who have been in Raleigh might remember our Customer Appreciation Celebration from last year. If so, you know to bring a friend to our 2014 celebration this Saturday, October 4. As summer draws to a close and we start catching hints of the fall, we wanted to offer a party where people can feel free to kick back and relax. The day has one purpose: fun!
We know that your Saturdays can be busy and that you might only be able to drop by for a quick visit; that's totally fine! Stay for as brief a time or as long as you'd like. We'll have hot dogs, inflatables for kids to play with, and fun games and prizes for everyone. Our goal is to create as much positivity and joy as possible. If one person feels like his or her day is brightened, we'll be pumped.
So come on out any time between 10 a.m. to 2 p.m. Right now the weather is supposed to have a high of 72 degrees for the day, with partial clouds. No need for sunscreen. With the recent drop in humidity, this will be the perfect weather to enjoy the breeze, have a hot dog, and take a break from your weekend. We hope you feel comfortable stopping by; no pressure!
Awesome Party for Customer Appreciation This Saturday
was last modified:
May 13th, 2015
by