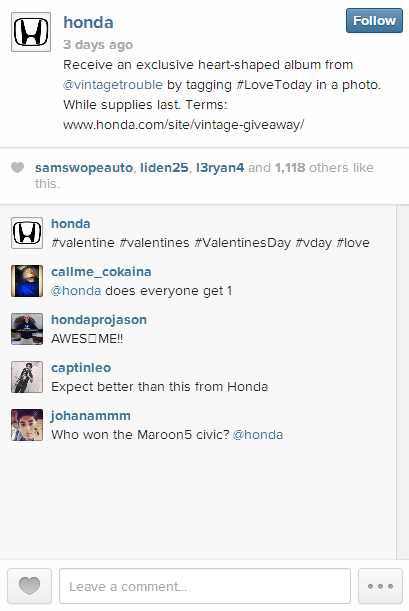 We think Valentine's Day was pretty nice this year. All of the snow from the storm that nearly rent Raleigh in twain was gone and melted by lunchtime, and everyone was free to go out with their someone special (another day indoors and we all would have probably killed one another, which would have been ironic for the day).
Honda had a pretty novel Instagram contest that, though now closed, extended through the 16th, so you or someone you know might have been one of the lucky winners. The contest was structured like this: Honda asked people to post why they liked Valentine's Day with the hashtag #lovetoday.
Honda will now incorporate those ideas into song lyrics for the campaign they have going with band Vintage Trouble and their track, "Today is Pretty Great," which you might have seen on TV. The first 500 people to post will receive a custom heart-shaped LP of that new song that features their suggestions.
People were free to write poems, post photos, videos or even just to mention a loved one. In case you don't have an LP player, Vintage Trouble will also release the single for wider use with the help of Honda. We thought this was a fun way to celebrate the day, and we hope that it cheers you a bit, as well. Below are a few responses that Honda got on Instagram that we especially liked.
Honda's #LoveToday Valentine's Instagram Contest
was last modified:
March 22nd, 2022
by